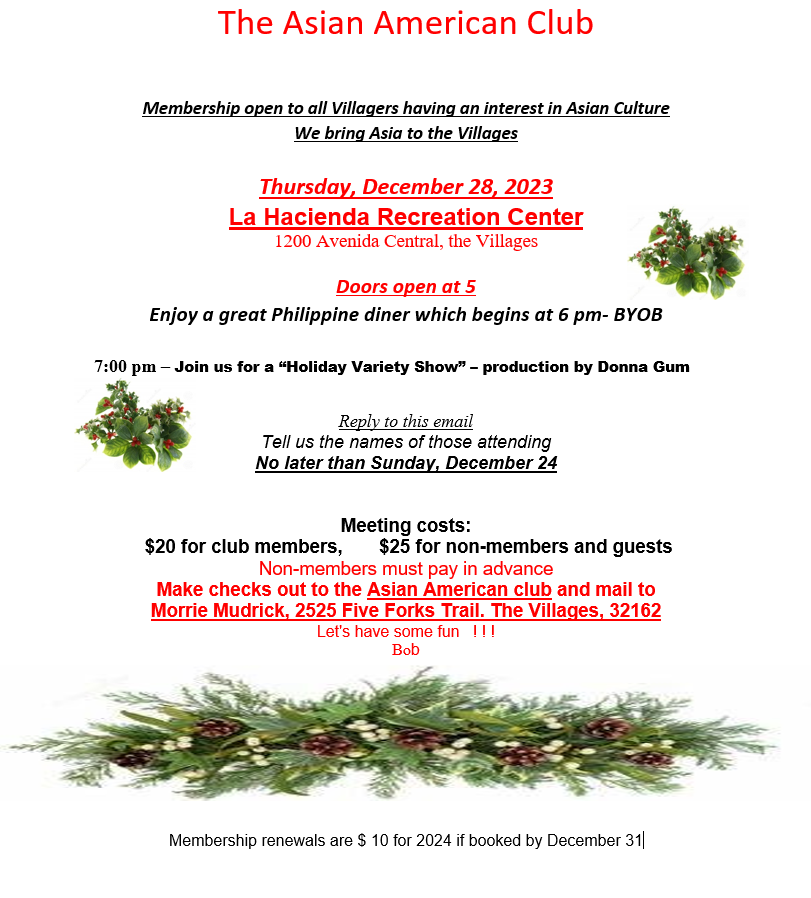 Here is our August 26 Chinese Opera Night video and our September 30 Bali Night collage-style video.
Video of our excellent July 2023 Pacific Paradise Dance Show and our June 2023 program The Birds of Asia are linked here.
Here are links to videos from our Glimpse into India show, May 25, 2023, the Korean American Club show, March 24, 2023, and from the Chinese Spring Festival with Orlando friends on Feb. 18, 2023.
Check out our big January 2023 Chinese Lunar New Year Festival here!
Here are videos of our December 2022 entertainment and our November 17, 2022 demonstration about making sushi.
Enjoy these links to the video from our September 22 India Fest, the October 27 Vienamese-themed meeting and a YouTube video of our August Indonesian program.
This is a link to video of our entertainment from the July AAC meeting and another link to Lydia Hodson's excellent 6/23 presentation about the Guzhong.
This link leads to a YouTube video of our May 26th Asian dance show; on April 28 we had an Origami exercise and footage of our March 24 2022 meeting is here.
Here are links to our February 24 Martial Arts Demo, our January 27 Lunar New Year party, & December 2021 Talent show video.